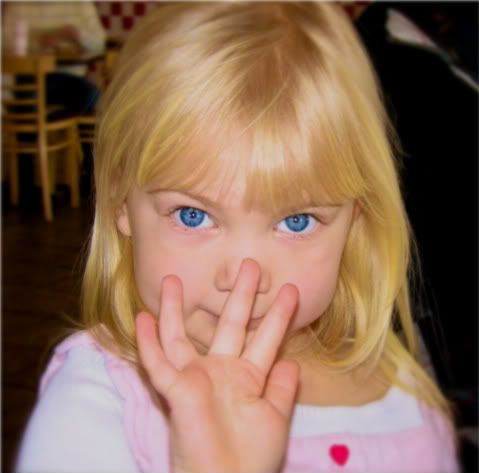 My aunt sent me this photo she took of DJ (formerly known as "Lil' Diva". I've decided to change her blog name to her initials, as
Lil' Diva
was becoming just too much of a self-fulfilling prophecy :). Her antics are totally cute at this age, but when she rolled her eyes at her violin teacher when she said it was her turn to play the other day, I knew things had gone a little too far). Anyway, I just had to post it, and thought I'd take a moment to record what my littlest angel is all about right now...
Right now, sweet DJ, you love to:
sing and dance, all day, all the time
be
just like
your big sisters
draw the cutest critters and people, all with long and pretty eyelashes
cuddle like crazy
play in the sandbox
be
just like
your big sisters
proudly blow bubbles while you swim (such a big girl!)
"read" your favorite books, especially "Pinkalicious"
chew bubble gum
dress just like your dolly
pick out fabric and design your own dresses
drink chocolate milk (but eat nothing)
"need" bubble gum medicine for every boo-boo
wear your favorite pink shoes
play "
kidoz
" on the computer (especially "Dora")
watch
Blue's Clues
and
Fraggle Rock
listen to music on your ipod (especially "Walk the Dinosaur" and "True to Your Heart")
wear your hair in a french braid (which is a good thing, since I can never get your pony tails in just the right position)
jump and roll on the bed
ride your bike
flash those dimples to get you out of any sticky situation :)
and we think you are wonderful!