So, remember that
old shirt-turned-dress
-that-really-resembled-a-hospital-gown
I made for DJ?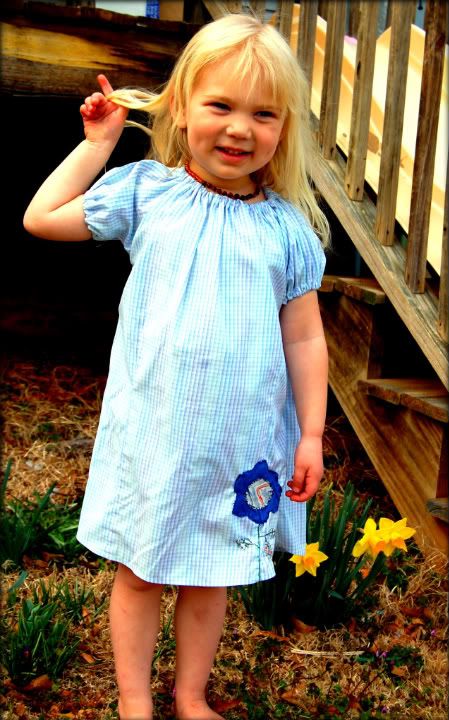 I tried my first attempt at embroidery and added a flower to it. I think it helped a little...?
But the flower addition isn't actually why DJ has that big smile on her face...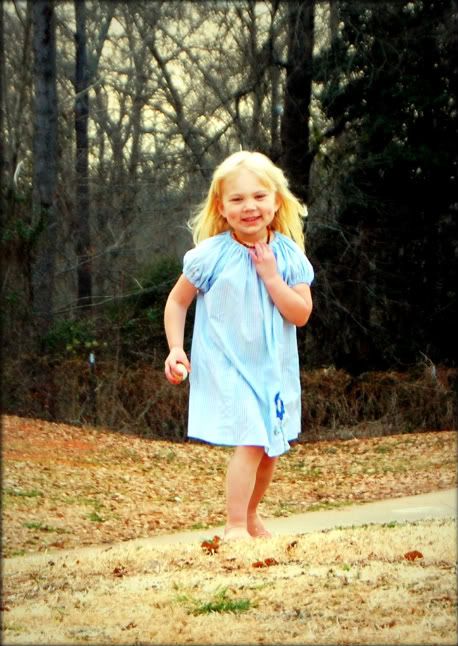 It's because her new
Hazelaid
necklace came in the mail.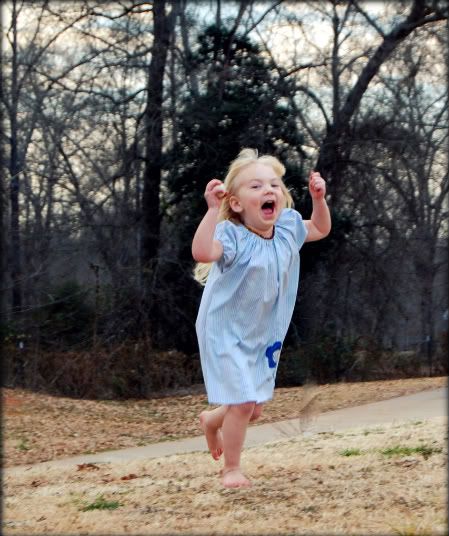 really, really excited
and ran and danced all over the yard in her new jewelry.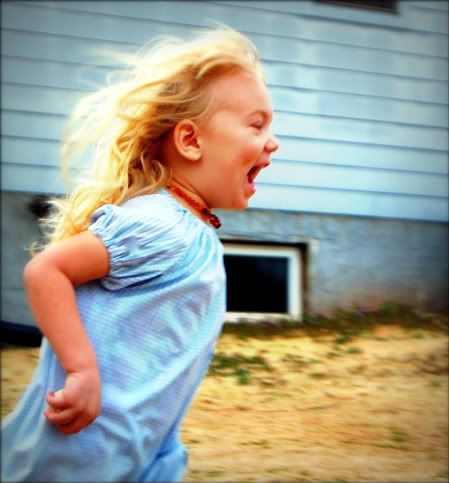 It seemed like
Hazelaid
reviews were popping up on blogs everywhere, so I decided to check it out. BeachPea has had chronic stomach issues since, well, since she was born, and nothing we've tried has seemed to help. So when I read that wearing hazelwood against your skin can absorb the extra acid in your body and help relieve stomach pain, well, I figured it couldn't hurt to try. Tho' I was skeptical. Not because I don't believe in natural cures - I'm sure God has given us more natural cures in this beautiful world of His than we can imagine. But, as a mom trying to rein in some of the effects of ADHD and Asperger's Syndrome in a son, I've been warned more than once to watch out for companies selling natural fix-all products who prey on desperate parents with their fake merchandise. But, I figured even if this necklace didn't work, at least BeachPea would get a
cool-in-a-beachy-kind-of-way piece of jewelry
to wear (they are really cool looking). And I didn't want to miss out on the fun, and since I, thankfully, do not have any of the issues cured by hazelwood (stomach pain, acid reflux, eczema, teething pain, etc.), I ordered myself an
amber bracelet
, which is supposed to boost your immune system by rubbing off trace amounts of succinic acid into the body.
So, BeachPea and I have been wearing our new jewelry from Hazelaid for over a month now. And I have to say, BeachPea honestly has not been complaining of stomach pain as much. Whether it's psychological or real, it
has
helped. And she has a cool-in-a-beachy-kind-of-way piece of jewelry, so I don't regret the purchase for a second. And as for my amber bracelet - remember a few weeks ago when my family was hit by that virus-that-wouldn't-quit (my dad was here visiting and got it, too, and his doc said it was probably swine flu) - well, it laid my kids and husband, dad, and aunt (also here visiting) really, really low - the sickest most of them had been in, like, ever. But I was able to shake it off in about 3 or 4 days (compared to weeks for some of them) with much less severe symptoms than the rest of them. Was it the boost from the bracelet that helped? I don't know. But it might have been.
And since it claims to also help prevent ear pain and infections, which DJ has been fighting constantly since the beginning of the year, I was convinced enough to order amber necklaces for her and CarriBear. OK, and a cool-in-a-beachy-kind-of-way
hazelwood and amber necklace
for myself (I couldn't help it, ok? We're about to go to the beach and I wanted to look cool).
So we were all really excited to get our Hazelaid package in the mail a couple of days ago. I'll keep you updated on the ear infection situation and if the amber seems to help. In the meantime, I'm having fun watching DJ dance around in her new jewelry. :)